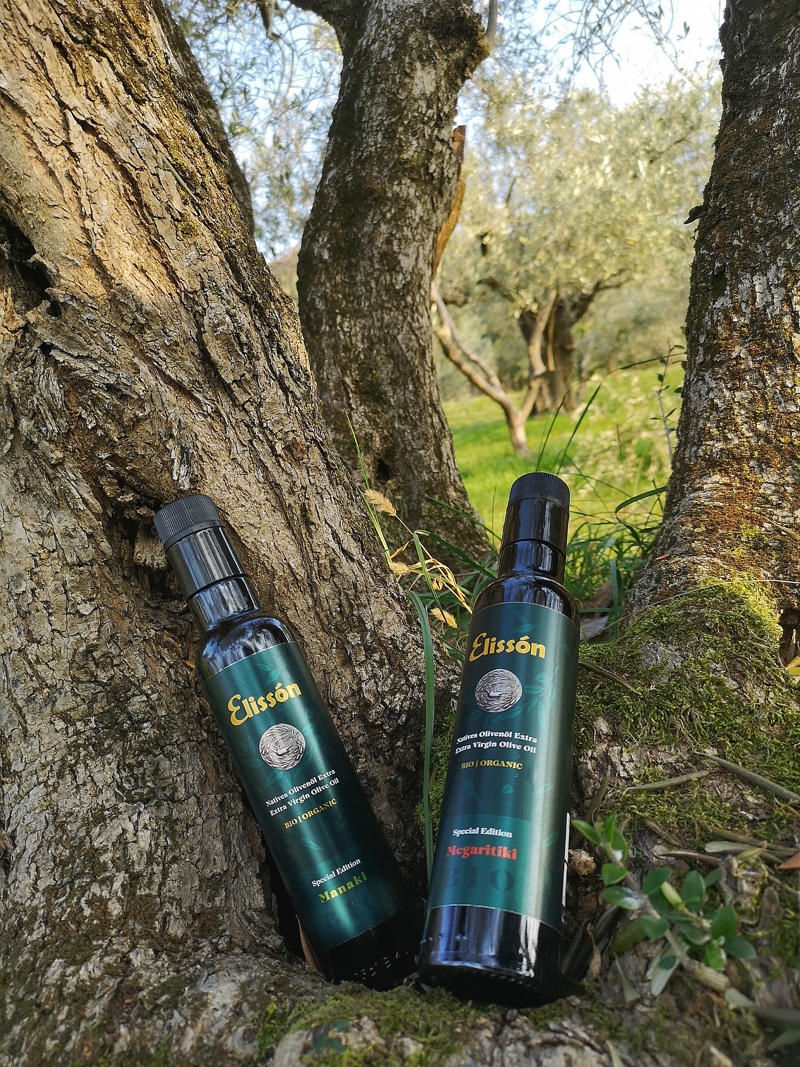 Dear friends of Elissón Olive Oil,
Celebrate "World Olive Day" with us. Launched by the International Olive Council and proclaimed by UNESCO in 2019. Every year on November 26th, the olive tree is celebrated with its health and ecological benefits. Celebrate with us!
Our olive harvest is complete. In about two weeks, the fresh olive oil will be bottled and will then go on a journey to Germany. Elissón Classic in the 5 liter container is already sold out due to numerous pre-orders. There will only be a limited number of 500 ml bottles of Elissón Classic. If you have not ordered in advance, you will unfortunately not be able to receive Elissón Classic in a 5 liter container. But you can buy Elissón Mild from last year in a bag-in-box in the online shop, it still tastes excellent and is recommended for daily use in the kitchen. Elissón Mild will then be bottled from the new harvest in spring 2021. This oil of the Koroneiki olive variety comes from organic farmers who are friends, and it is carefully produced according to our strict quality criteria.
Do you not yet know what you want to give your family, friends, colleagues and customers for Christmas? This time make a small but extraordinary and very valuable Christmas present: Elissón Special Edition Megaritiki or Manaki (harvest October 2019) in an elegant presentation and a new look in a 250 ml bottle (see photo of both bottles in our olive grove). Both olive oils are high quality, internationally awarded products from early harvested olives. According to Feinschmecker Olio Awards 2020, Elissón Special Edition Megaritiki was the best Greek olive oil of the year. Other awards came from the Great Taste Awards and Flos Olei. These olive oil bottles go well with any good dish, best served raw. Order 6 bottles of Elissón Special Edition Megaritiki or Manaki now and get 2 bottles for free. Or order 8 bottles of Elissón Special Edition Megaritiki or Manaki and get 4 bottles for free. Would you like to order larger quantities? Talk to us by email.
In addition, our offer is valid until the end of 2020 or while stocks last: Order a 5-liter bag-in-box Elissón Mild and receive a free bottle of Elissón Special Edition Manaki. Order two or more 5 liter Elissón Mild Bag-in-Boxes and receive a free bottle of Elissón Special Edition Manaki plus a bottle of Elissón Special Edition Megaritiki. This is how you can make use of the offers: You order via the shop (preferably by logging in) and you will only receive an invoice for the products you have paid for. You will automatically receive the free bottles. If ordering via the shop is complicated for you, simply write us an e-mail with your order request.
We wish you a COVID-free and cozy Advent season.
Your Nikos Pulos